Introduction
RFCA Vice Chairman (Air), Gp Capt T C Willbond RAF (Ret'd), is offering all ATC Sqns and CCF (RAF) Sections based in the North of England RFCA area of responsibility the opportunity take part in an exiting Science Technology Engineering and Maths (STEM) Challenge competition to coincide with the RAF 100 celebrations taking place in 2018.
The Challenge
The challenge invites Sqns/Sections to enter cadet teams into two different competitions:
Project SIGMA focuses on the research, development and production of a short film on the flight of large unmanned aerial vehicle systems in non-segregated airspace. The short films will be judged by a panel of experts.
Project OMEGA invites teams to design a build a model air vehicle which can fly a figure of eight course 100m long either automatically or via radio/remote control. Cadet teams will be invited to fly their models at a specially organised event and winners will be selected from a panel of experts.
Amazing Prizes!
We have been able to secure significant financial support for this challenge from a range of sources including grants and industry sponsorship. This support will enable us to offer some fantastic prizes to the top performing team entries for SIGMA and OMEGA which will include financial rewards, the presentation of trophies at a high-profile award ceremony, VIP visits to key high-tech/STEM industries based in the North of England as well as financial prizes to Sqns/Sections that enter teams.
For further information about the amazing prizes on offer, please follow this link.
Financial Support
It is recognised that Project OMEGA (the building of a model air vehicle) may have a financial impact Sqns/Sections. To offset this, small grants of up to £75 will be available to Sqns/Sections that apply.  This grant is to be used to purchase the equipment and materials needed to successfully build the model air vehicle.  For further information on this grant, please visit this page.
Who can enter?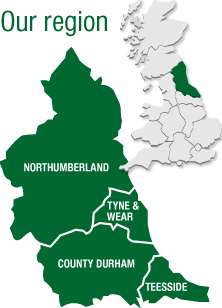 This high-profile and incredibly exciting competition has the full support of the RAFAC Chain of Command (CoC) (both ATC and CCF (RAF)) and all Sqns/Sections in the following formations are strongly encouraged to enter and take part:
All 35 ATC Squadrons in Durham/Northumberland Wing;
The 4 ATC Squadrons in Central and West Yorkshire Wing covered by the North of England RFCA area of responsibility; and
The three school-based CCF (RAF) Sections at the Durham, Barnard Castle and Yarm Schools which are also covered by the RFCA area of responsibility.
Click here for further information on the RAF 100 
Click here for further information on the North of England Reserve Forces and Cadet Association.
Where can I get further information?
The Durham/Northumberland Wing Aerospace & IT Officer, Flt Lt James Elliott RAFVR(T) will be acting as the Project Officer for this competition challenge.  He can be contacted via Project Bader for further support and information about the STEM Challenge.