Civilian Instructor Kathryn Ozbek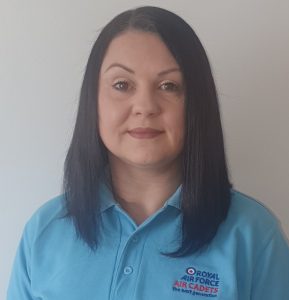 I became involved with 1507 (Chester le Street) Squadron in December 2018 as a Civilian Instructor.  I had attended various meetings with my son who joined in the September of the same year as a cadet and found they were looking for volunteers to help with activities. As a result I had a few informal chats with other staff at squadron and the OC and decided to give it a go.
On squadron I am mainly involved with the teaching of first aid due to my back ground. I also help out with the swimming competencies and swim competitions as I am also a level 1 British swimming judge. I supervise senior cadets when they are teaching and provide extra staff cover for other events. I am always encouraged to get involved with anything I would like to, as well as sharing my expertise there is always things on offer for me to personally develop in as well.
On average I attend 1 session a week at squadron which is approx 1830-2130hrs, sometimes I will do more if my working day job permits. As a CI there is no commitment to set hours, I help as and when I can.
Outside of the ATC I am an Advanced Nurse Practitioner, I work in both urgent care and the Ambulance Service in the rapid response vehicle. When not at work and squadron I can often be at swim galas volunteering, theatre events with my daughter or watching anything paranormal. To attempt to keep fit a love going to aerial class. I love been active and on the go.
If I could offer advice to anyone considering becoming a volunteer I would say go for it, its not just about passing on your skills and knowledge to future generations, you get so much more back.  Working with this age group gives you great personal satisfaction, enhances your own knowledge and communication skills and opens a new world of opportunities should you want to give new things a go.