Flight Lieutenant Karin Scott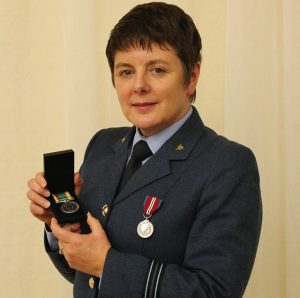 I'm Karin Scott, Officer Commanding 1407 (Newton Aycliffe) Squadron. I've been involved with Air Cadets since 1985 when I joined just to help out with admin and make the tea! My husband was the CO and Cadets soon became a big part of our lives. In 2001, after a break while my children were young, I re-joined 1407 (Newton Aycliffe) Squadron and became a Commissioned Officer in 2004. I have been OC 1407 for 15 years now.
As Commanding Officer at 1407 I have overall responsibility for our staff, cadets and SHQ. I primarily ensure Corps rules and regulations are adhered to, being responsible for Health and Safety, safeguarding and staff training.  I work with Wing HQ staff and Staff Officers to enable the squadron to function as well as it can. My main aim is to see that our cadets and staff are offered as wide a range of opportunities as possible and are able to benefit from everything RAFAC has to offer. I am also the Wing's Deputy DofE officer, supporting delivery of the Award and running adult training courses, and the Wing Athletics Team and Swimming Team manager. Throughout the year I attend Squadron parade nights twice a week and also spend time at home doing admin and planning activities, at least 50 hours a month. I also attend sports events, conferences and training courses at weekends when required. In summer I organise and run DofE expedition weekends and squadron camps which can take a lot of planning but are worth it.
I have gained many varied qualifications during my time in the Air Cadets, such as First Aid, Basic Expedition Leaders Award, Duke of Edinburgh's Award Leader, minibus driver and Heartstart Instructor. I've had many opportunities to take part in a wide range of activities such as SCUBA diving in Cyprus, attending DofE Gold presentations at St James' Palace, climbing in the Cheviots, flying in a Grob Tutor over Stonehenge and lots more. I have learned so much personally, gained skills and confidence I never thought I could when I joined as a young Civilian Instructor.
In my day job, I'm the Senior Laboratory Technician at Woodham Academy in Newton Aycliffe – a job I love, I've been there for 26 years!  I also assist with the school's Leadership Academy and take students on visits, particularly to STEM events. To relax I like to read crime fiction, and I am secretly an 'Emmerdale' fan, I've even visited the studios!