Padre Pauline Pearson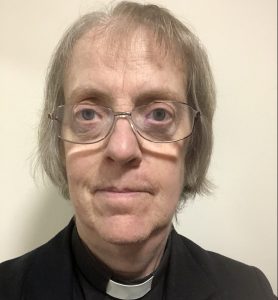 I'm Revd Dr Pauline Pearson – Padre designate, 861 (Wideopen) Squadron. I'm very new to the Air Cadets – I was asked to take on the role of Padre when I came to Wideopen as the local Vicar because there has been a longstanding link to my church, St Columba's. My very first service at the church, in February 2019, was a Parade Service!
My role as Padre is to drop in, in normal times, for 1-2 sessions a month, spending time with the cadets and the adult staff. I work with the Officer Commanding to support the Squadron as required. I contribute to sessions on for instance personal wellbeing, values and contemporary issues, lead services (e.g. for Remembrance) and attend other events when requested.
The best thing about volunteering on the Squadron is seeing the enthusiasm and interest of the cadets and the commitment of adult staff.
I am Team Vicar at St Columba's Wideopen, and also Emerita Professor of Nursing at Northumbria University. I am a Governor of Newcastle Hospitals NHS Trust, and a Trustee of Together Newcastle. I enjoy reading, walking, painting and drawing, and writing poetry. For the 80th Anniversary of ATC I walked 91.4 miles in total during February 2021, and raised £265 for the RAF Benevolent Fund.
My advice for prospective volunteers? Give it a go! You'll enjoy it!