Padre Tony Buglass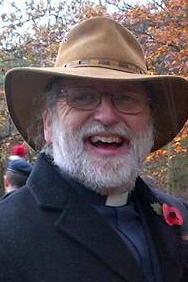 I'm Rev Tony Buglass, retired Methodist minister, and squadron padre at 224 (Hexham) Sqn. I first got involved with the ATC in 1994, and have supported Squadrons across the North East as I moved around with my job, returning to Hexham when I retired.
I have always tried to maintain a friendly presence, 'loitering with intent' and simply sitting in on many of the usual activities, so that cadets get to know me as just another friendly face who can be approached if needed. More formally, I do the occasional 'padre's hour' as a talk – that can be something about aircraft, history, anything which is in their domain of interest, or raise ethical/religious issues. I try not to do too much religious material on squadron nights, just enough to let it be a normal connection to be made. I always join them for the Remembrance Sunday parade and service in Hexham Abbey, and I always lead the ATC Sunday service in the local Methodist church.
I have always enjoyed being with other people who share my interest in aviation. I have accompanied cadets on various other activities, which has in the past meant I was able to go flying and gliding, although since places have become so limited I haven't done that for a good few years. I have gone with teams on wing competition days (and although I couldn't actually take part officially, I scored the highest score in an aircraft recognition competition – I reckon that raised the squadron profile a bit!).
My advice for prospective volunteers? If you have no previous experience, it can suddenly feel like an alien world with lots of things to deal with (safeguarding, DBS, ATC and MOD regulations, committees and training) – don't panic, just take your time, find your way in and you'll find your place. Then enjoy! A Commandant often used to say that this is the best youth organisation in the world. Allowing for an understandable bias, and not having enough experience to challenge him, I'd say he had a point.