Sergeant Matt Douglass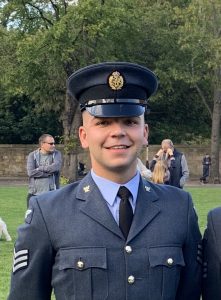 I'm Sergeant Matt Douglass – Adjutant at 234 (City of Durham) Squadron.
I've volunteered with the Air Cadets for 5 years now. I initially joined as a cadet at 13 years old with 324 (South Shields) Squadron. I worked my way up to the rank of Sergeant before leaving at 18 and rejoining as a civilian committee member. At age 20, I joined the staff team as a Civilian Instructor before making the move into uniform in 2018 as a Sergeant. I was then seconded to 234 (City of Durham) Squadron later that year and decided to stay for good!
My primary role is as the Squadron Adjutant whose main responsibilities are maintaining the general admin of the squadron. I am responsible for ensuring staff and cadets receive the relevant information for upcoming events, that these are advertised in time and that the returns for these events are submitted in time. On top of this, I assist in other areas including the delivery of AT activities, first aid courses and the DofE programme.
As an SNCO (Senior Non-Commissioned Officer) my role includes drill and discipline. This is a large part of the cadet experience so it's important we act as role models and provide guidance in these areas. I love drill so I'm out there delivering sessions and helping the cadets whenever I can!
It's hard to say what I enjoy most about volunteering as there's so much! However I must say it's immense pride and sense of achievement you get seeing a young person benefit from your input. Whether it's that they've achieved a new classification, they've been awarded their DofE award, or they've got a new job and their interview revolves around their experiences as a cadet, you know that at some point you've helped that cadet achieve that in some form or another. It's a feeling that you can't describe. On top of this, I cannot miss out the social aspect of being a volunteer with the Air Cadets. Most of my friends are from the corps! We're one big family and it doesn't matter what your background is, you'll always be welcomed with open arms and it's so comforting knowing you have this massive support network right here.
The ATC has shaped me into the person I am today. I've gained so many skills including leadership, problem solving, time keeping and organisational skills. The corps has helped me to develop my self confidence too. I believe that the corps allowed me to develop skills that I couldn't have learned in a standard workplace or in a school. I've recently started a new career and I honestly believe that without my experiences and skills gained in the Air Cadets, I wouldn't have passed the application process.
I've also gained a lot of qualifications within the organisation including; St John Ambulance 16hr first aid certificate (HSE recognised), Lowland Leader Award which certifies me to be a group leader in lowland terrain, Gold DofE award (I talked A LOT about this in my application process for my new career!), L3 Award in Education and Training, DofE Expedition Accredited Assessor, and many more qualifications which are relevant to it only the work within the Air Cadets, but are transferable to the outside world!
In the average month I would usually attend the Squadron on most Mondays and Fridays (about 3 hours in an evening depending on your Squadron), taking part in one or two weekend activities depending on the time of year. I'm heavily involved so my hourly commitment is usually approximately 30 hours per month but this can vary depending on personal/work commitments and also what's actually going on in the cadets! As a uniformed member of staff, my minimum commitment is set at 12 hours per month but the corps is very flexible and is fully supportive of people who struggle to make such commitments. The corps usually just asks for you to commit to what you can!
My advice for prospective volunteers? Come down and try it out! Don't be afraid that you might not know anyone… Like I've said, it's the most welcoming community I've been a part of and you'll leave your first night feeling like you've made friends already. And if you're sat there thinking "I don't know anything about cadets or the military so it's not for me" that really doesn't matter! The corps have a great induction programme that introduces you to all things Air Cadets. We're constantly looking for new people from all walks of life as I can guarantee that you have something we're after!