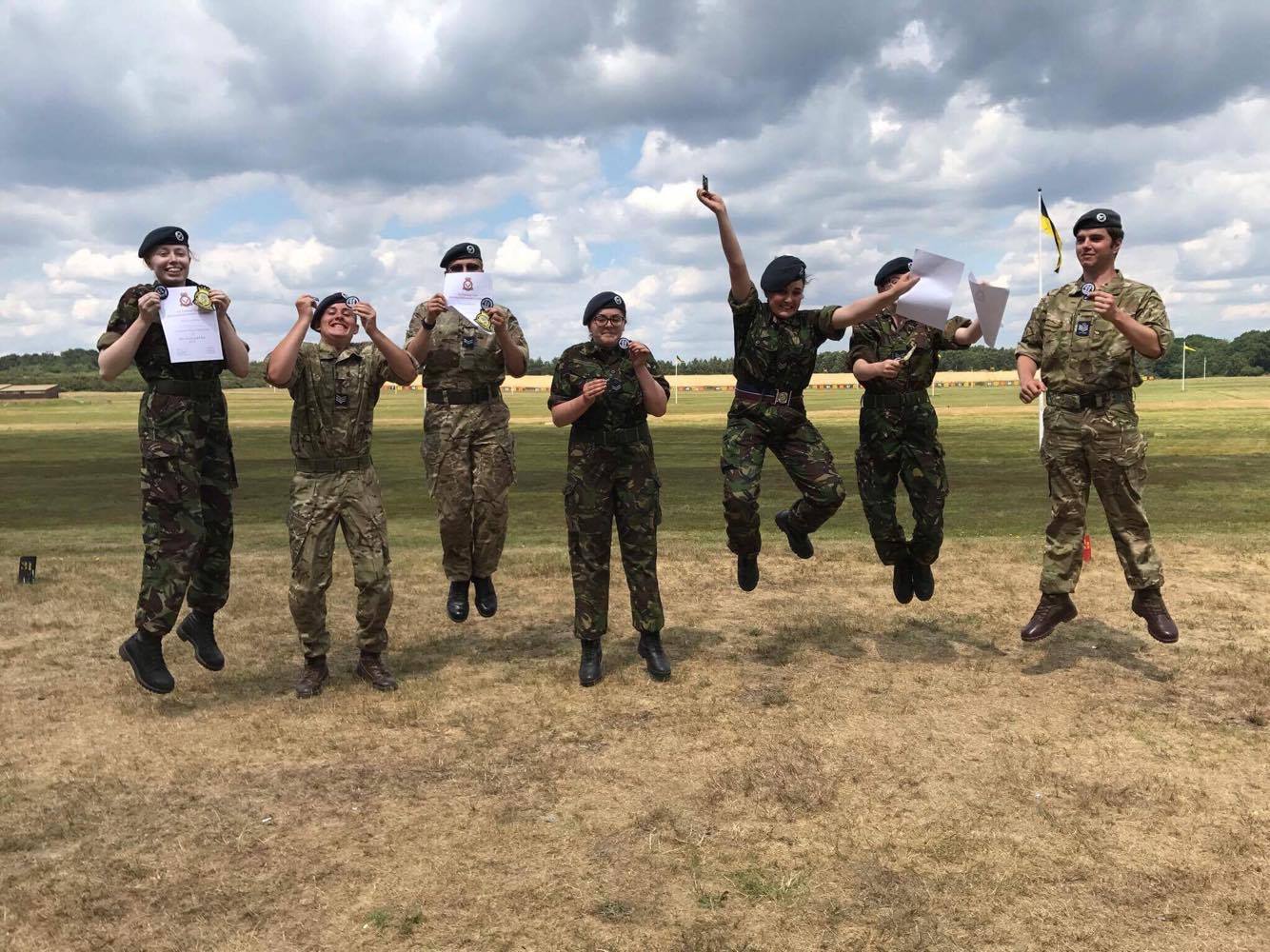 Cadets from Durham/Northumberland Wing Air Cadets have excelled at a national target shooting competition.
Cadets from eight Squadrons across the Wing travelled south to Bisley, the home of the National Rifle Association, at the end of June, to take part in the prestigious Inter-Services Cadet Rifle Meeting (ISCRM). The cadets, from 111 (Sunderland) Squadron ATC, 607 Wearmouth ATC, 131 City of Newcastle Sqn ATC, 234 (City of Durham) Squadron ATC, Bedlington Air Cadets, 224 (Hexham) Air Cadets, 1338 (Seaham) Squadron ATC and 1027 Jarrow Squadron ATC, formed 7 teams of 4 to shoot in a number of competitions against other Air Cadets as well as Sea Cadets and Army Cadets.
Within a couple of days they had won their first trophy – the 'Air Gunners' – which was awarded to the team from 607 (Wearmouth) Squadron for being the best Air Cadet team in the Pre-ISCRM shoot. The same Cadets (Max Vardy, Courtney Hudson, Ella Colgan and Joseph Walley) also picked up silver medals for the Battle of Britain competition, and the WJ Taylor Inter-Wing shoot, where they were joined on the team by Nathan Benson, Molly Bamford and Cadet Graham of 1027 (Jarrow) Squadron.
In the main competition, cadets from all services compete to gain a 'Cadet 100' – a special badge awarded to the 100 highest scoring cadets from any service. The following Cadets from Durham/Northumberland Wing achieved their Cadet 100 this year: Sgt John Riley 1338 (Seaham); Cpl Matthew Phipps 1338; Cpl Yasmin Strain 111 (Sunderland); Cpl Kieran Robson 131 (City of Newcastle); FS Nathan Benson 1027 (Jarrow); Sgt Molly Bamford 1027; Sgt Courtney Hudson 607 (Wearmouth); Cpl Ella Colgan 607. Four cadets were then chosen to represent the ATC in the Inter-Services Final: Cpl Phipps – Corps A team, and also the top individual firer for the ATC during the final; Sgt Hudson and Sgt Bamford – Corps B team; Cpl Colgan – reserve corps team.
"The Cadets have done exceptionally well again this year," said Wing Commander David Harris, Officer Commanding Durham/Northumberland Wing. "They coped well with the difficult weather conditions, and their outstanding success is testament to the dedicated and skilled team of coaches as well as the hard work and commitment of the individual firers."
After all the scores were collated, two internal Wing trophies were also presented: the Helen Border Memorial Trophy for the highest scoring individual across the 300, 500 & 600 shoots during ISCRM, which was presented to Cpl Colgan of 607 (Wearmouth) Squadron; and the Cardiff Memorial Trophy, for the highest scoring team across the same shoots, which was won by 607 (Wearmouth) Squadron.
Every cadet who fired the ISCRM also gained a gold competition marksman badge – the first ones ever given out since the ATC's new Progressive Training Syllabus was released.
Five Cadets and two staff have stayed on at Bisley after the main competition to compete in the 'Imperial': a national competition for individuals and teams from all organisations.
All Cadets in the ATC have the opportunity to try their hand at target shooting, starting with training from a qualified Weapons Instructor, and progressing on to live firing under the control of a safety supervisor and coach. Cadets who wish to develop their shooting skills can go on to be coached on specialised target rifles, and many Air Cadets have gone on to represent Great Britain in international competitions.