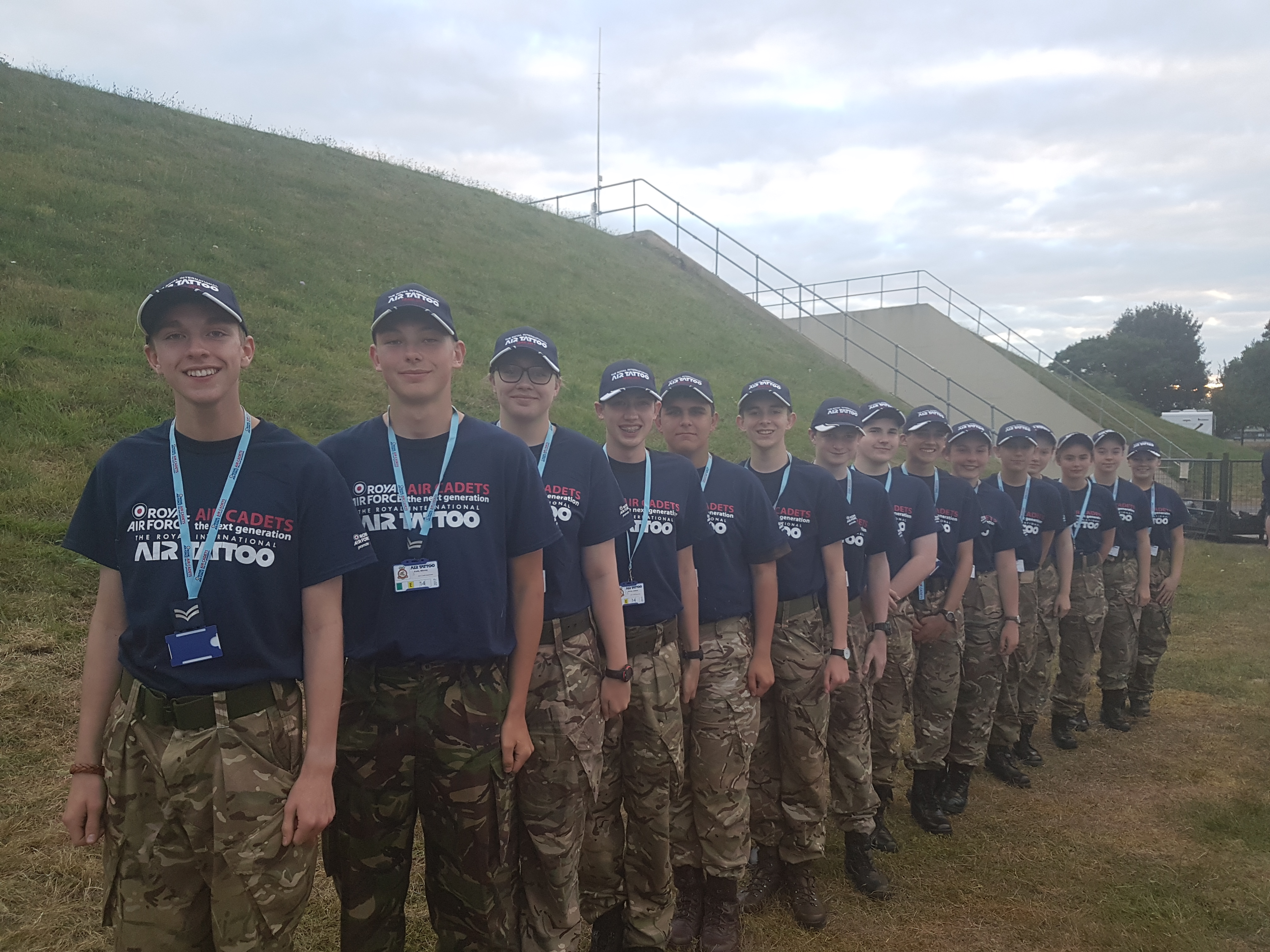 The Royal International Air Tattoo (RIAT) held each year at RAF Fairford is arguably the greatest airshow in the world. With 246 aircraft, representing 32 different military organisations from 26 countries, the 3 day event held over the weekend of 14-16 Jul 2017 was an extremely large scale operation.
The Royal Air Force Air Cadets, led by our Commandant, Air Commodore Dawn McCafferty, provide support to the Royal Air Force Charitable Trust, the hosts of the Airshow, providing over 1000 Staff and Cadets from all over the UK & Internationally on an annual basis to help the Airshow run smoothly and efficiently.
Durham/Northumberland Wing Air Cadets this year sent a team of 3 staff and 17 cadets to the Air Cadet Camp which for several days either side of and including the Airshow days provide support to the Trust doing various Airfield tasks. Duties include VIP Receptions, Greeting members of the public as they enter the event, providing support to Disabled Attendees and those with Special Needs, as well as keeping the Airfield safe and free from any debris or litter which could cause damage to the aircraft.
During their time at RIAT, the cadets were also able to benefit from having free entry into the Airshow, as well as being able to tour all the static aircraft display stands and talk to the pilots and ground crews, as well as watching the fantastic aerial displays, which this year included not only RAF Red Arrows but also the United States Air Force Thunderbirds Display Team, in what is the 75th Anniversary of the USAF, and the Air Force Display Teams from France, Ukraine, Switzerland and Finland
One of the youngest cadets to attend, Elysia Todd from 1507 (Chester-le-Street) Squadron was awarded a place on the 2017 Red "Sparrows" Team. This annual award recognises the 12 best under 15 year old cadets in attendance for their attitude and participation at the camp. Not only did Elysia receive a special cap, t-shirt and special goody bag donated by Airfix, she and her fellow awardees were given a special flight in a Chinook Helicopter from RAF Odiham.