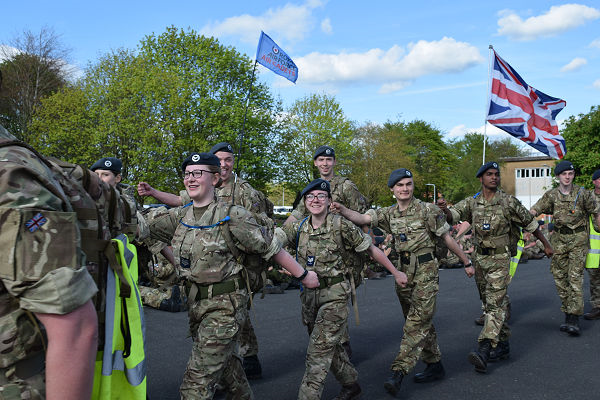 Fourteen teenage Air Cadets from across the North East have proved that they are tough enough to take part in the famous Nijmegen March this summer.
The young people joined over 1100 personnel including Air Cadets, Army Cadets, University Officer Cadet units, and regular military personnel, to take part in the 36th Annual 2-Day march at RAF Cosford in Shropshire. The event serves as a qualifier for this year's 101st Vierdaagse in Nijmegen, Holland.
The team of Air Cadets – Team DNW, as they have become known – travelled down as a confident and well prepared squad, and over the two days integrated well into the road marching fraternity. Over two days, they covered 50 miles over varied terrain and through both country and built up areas to finish strongly, with Group Captain Simon, Regional Commandant of Wales and West Region taking the salute on the homecoming straight.
The young people are all Air Cadets at Squadrons across the North East, including in Sunderland, Bedlington, Blyth, Wideopen, Consett, South Shields, Washington, Morpeth, Hetton-le-Hole and Prudhoe.
Team Leader, Pilot Officer Sara Allison, said, "I'm extremely proud of what this team has achieved and I look forward to taking them to experience the main event in Nijmegen. I'm so pleased that they are the recipients of some of the first Bronze Road Marching badges in the Corps and I hope they will wear them with pride."
Sergeant A Reid, one of the sweep team and an experienced member of the RAF Walking and Road Marching Association, who run the event, praised the team. "From an outsider looking in, it was obvious that the Team were well trained, highly motivated, well led, and not forgetting had a Bergen full of morale. It was a pleasure to walk part of Day 2 with you and I look forward to seeing you all out in Nijmegen. Keep up the great work!!"
The Cadets and their accompanying staff will now undertake a number of 'warm-up' walks before travelling to Holland in July for the main event.