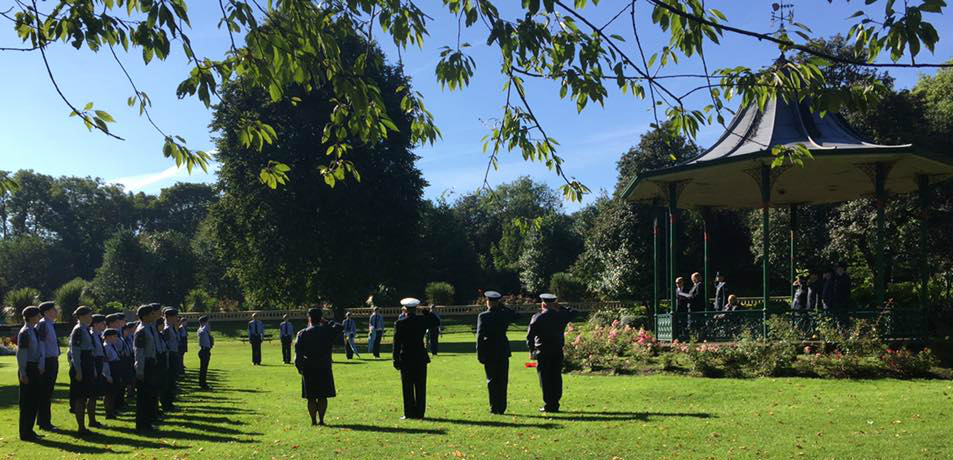 Over 60 air cadets and veterans from across Sunderland paraded against the magnificent backdrop of Mowbray Park to remember the bravery, sacrifice, and ultimate triumph of the men Winston Churchill dubbed 'The Few'.
It is 76 years since the Battle of Britain raged in the skies above England as the RAF fought to gain air supremacy against Hitler's Luftwaffe and bring to an end the Fuhrer's invasion plans.
Yesterday veterans and Air Training Corps cadets from across Sunderland and South Shields, formed up at the bandstand marching for a special service of commemoration and laying of wreaths. Spectators turned out in their droves to show their support and remember the 544 British and overseas air crew who died defending our nation between July 10 and October 31, 1940 – the period known as the Battle of Britain.
Flight Lieutenant James Yeo RAFVR(T), who organises the parade each year on behalf of the City, said: "Without the positive outcome of the Battle of Britain, the history of World War Two could have been very different. Some of the RAF pilots who fought were as young as 18 – the age today of our oldest air cadets. The average age of those killed was just 21. It is almost beyond our comprehension today that such young pilots were being sent into battle and that the hopes of the nation were resting on such inexperienced shoulders."
The commemoration service was attended by, among others, Harry Truman, Deputy Council Leader, and Armed Forces Champion for the City. Councillor Truman spoke about the importance of the commemoration and praised the commitment of the cadets.
Councillor Truman said: "It is wonderful to be able to bring veterans and young air cadets together like this, and to see the pride the Battle of Britain even now instils in people of all ages. It's important that this tradition is continued year on year and I would like to thank no 111 (Sunderland) Squadron for its role in organising the parade."