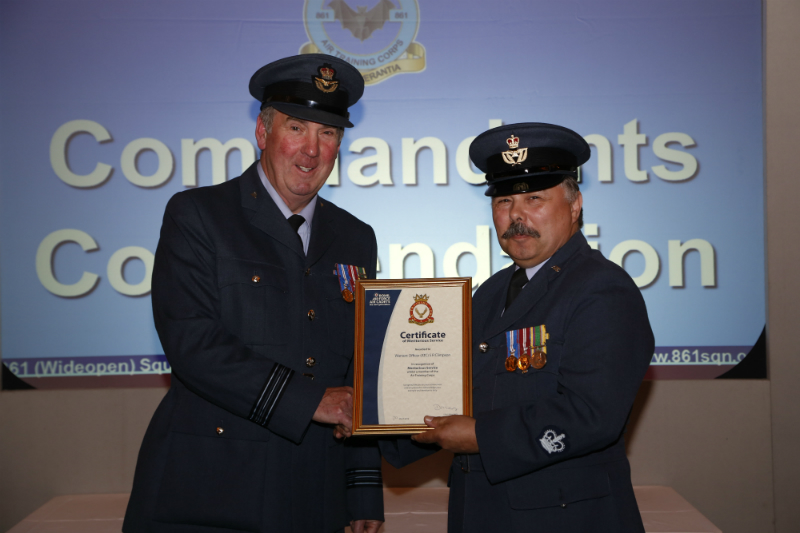 Squadron Leader Chris Miller has been awarded a Defence Council Letter of Appreciation in recognition of a staggering 51 years' service to the organisation. He has served the Air Training Corps as a Cadet, Civilian Instructor and a Commissioned Officer since 1965 – and continues to do so. During this time, he has given outstanding service to the Air Cadet unit at Seaham, where he was Squadron Commander for over 20 years, and more recently at Durham/Northumberland Wing, where he has held the post of Wing Training Officer for almost 10 years.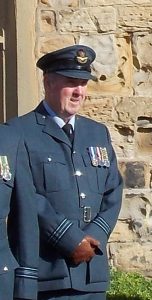 His enthusiasm and drive to fulfil the aims of the Corps have been and continue to be a shining example to all who come into contact with him.
In addition to performing the duties expected of him as a staff officer in one of the largest Wings in the country, Squadron Leader Miller has been at the forefront of local training and development.   He has been instrumental in developing the BTEC provision for Cadets, ensuring that young people across the Durham/Northumberland Wing area have access to the prestigious BTEC qualifications offered by the Air Cadets, in Aviation Studies, and Teamwork and Personal Skills. As a result of his efforts Durham/Northumberland Wing is highly successful with BTEC awards, and was acknowledged in 2015 as being the top performing cadet operator.
Over the years, Squadron Leader Miller has voluntarily taken on a number of special projects including anniversary parades, hosting for International Air Cadet Exchanges, and joint camps with Army Cadets from Durham and Northumbria Army Cadet Forces. And to cap it all, he has organised for the Wing Band to play at several high profile events, including the Beating of the Retreat at Edinburgh Castle and Duke of Edinburgh's Award ceremonies at Holyrood Palace.
His commitment, together with his personal drive and determination to succeed, have made him a highly respected leader within the Wing.
Wing Commander Dave Harris, Officer Commanding Durham/Northumberland Wing, said, "Although the free time given by Squadron Leader Miller to the Air Training Corps is very impressive, more so is his continuous drive for improvement and development of those around him. I can think of no more deserving candidate for this honour."
Squadron Leader Miller will receive the Defence Council Letter of Appreciation at a special ceremony later this year.