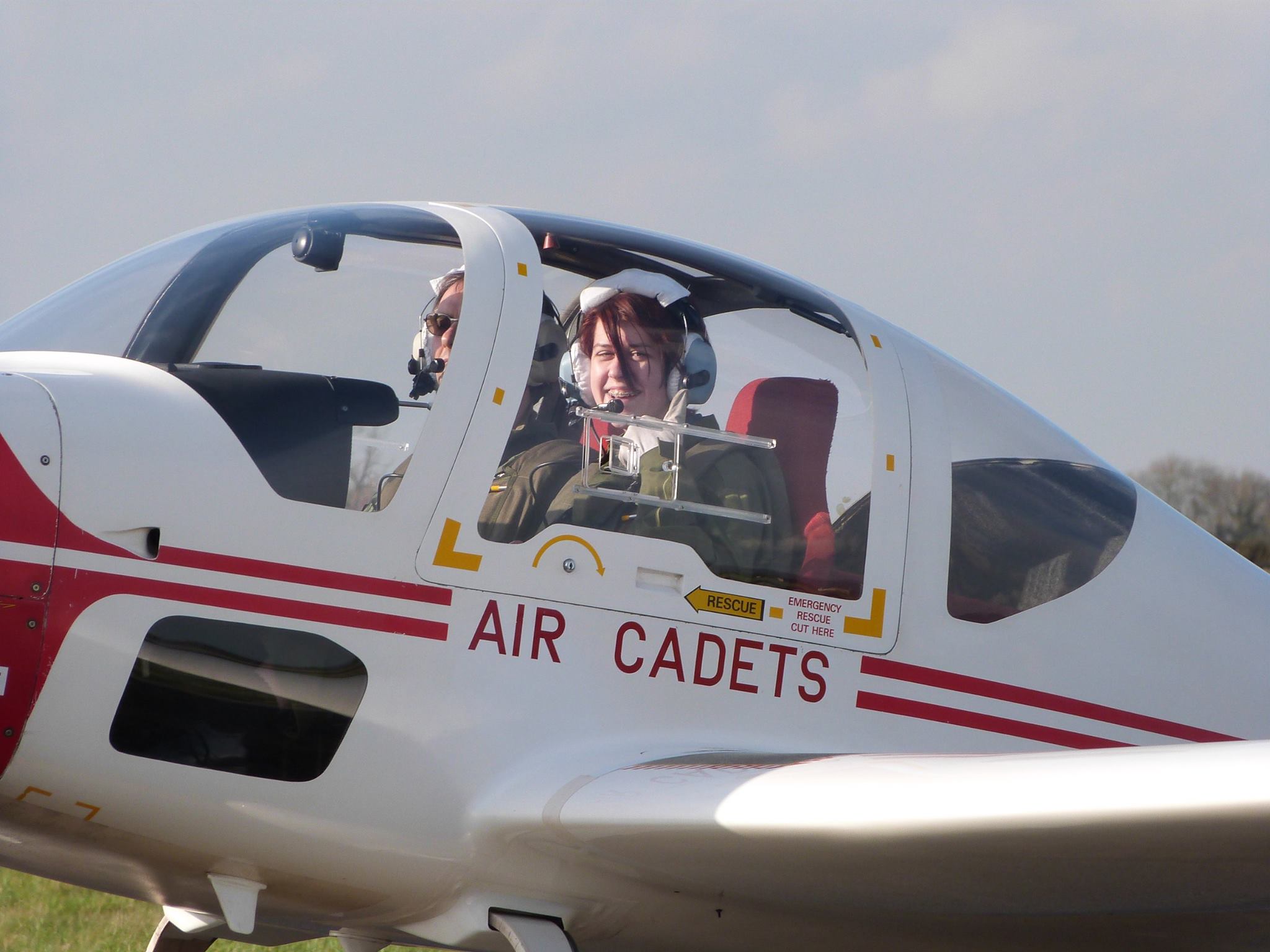 On Saturday 4th March 2017 the first DNW Air Cadets returned to the skies in a Grob Vigilant glider at RAF Topcliffe since the pause 3 years ago.
At 1355 hours aircraft ZH271 crewed by Flying Officer Jordan Cameron and Cadet Flight Sergeant Dan Griffin from 2527 (Lawnswood) Sqn departed runway 13 at RAF Topcliffe and climbed away from the airfield, marking the formal return to cadet flying with 645 Volunteer Gliding Squadron. During the sortie FS Griffin was able to put his ground training into practice, learning to fly the Grob Vigilant for the first time.
On the ground FS Griffin said "The flight was really fantastic with calm smooth weather. We did the blue and bronze wing training package so I'm really happy with this. It was a privilege to be the first cadet to fly".
That was followed by another 4 cadets from 1114 (Gosforth) Squadron taking to the skies to complete the blue wings aviation package.
Sgt Chloe Wiseman was the first to fly and became the first Durham/Northumberland Wing cadet to fly from RAF Topcliffe since the pause.
On the ground Sgt Wiseman said "it was really good and I really enjoyed it. I would recommend it to every cadet and I can't wait to come back and do a gliding scholarship course"
After Sgt Wiseman Cadets Luke Ramsay, Megan Oliver and Marco Padilla were next to fly again all completing their Blue Wings Package.
Sqn Ldr Steven Hughes, Officer Commanding said "I think it's absolutely fantastic. It has taken a lot of hard work to get to this point. We still have a lot of hard work in getting our staff up to standard. Today is a great day and it's fantastic that we have cadets here and that we are actually flying them. I'm even more delighted that the cadets are from Durham Northumberland Wing as this is the Wing I was a cadet in"
In April 2014 the decision was made to pause all Air Cadet gliding throughout the organisation. This was a difficult decision made in order future proof Air cadet gliding, safeguard its future and to ensure the air worthiness of the fleet. Since then work has been ongoing in the background to get the fleet back in the air and the squadron has been under the guidance of No.2 Flying Training School (2FTS) of the Royal Air Force.
The weekend of flying is the culmination of all of the hard work and dedication that has been put into making sure these flights happen over the 3 years, whether it be from the VGS staff, 2 FTS staff , Central Gliding School or the team of engineers. Everyone has had flying cadets again at the forefront of their efforts and hard work. Without everyone working as part of a huge team this weekend would not have been possible.
Volunteer Gliding Squadrons (VGSs) are Royal Air Force Flying Training units, operating military Viking TX.1(conventional) and Vigilant T.1 (motor) gliders to train cadets from the Royal Air Force Air Cadets and the RAF section of the Combined Cadet Force.
VGSs are made up of volunteer staff. Each is headed by a Commanding Officer and several executives, all of whom are commissioned into the Training Branch of the Royal Air Force Volunteer Reserve. Instructors comprise a mixture of regular RAF/RN/Army personnel, Reservists, Civilian Gliding Instructors (CGIs) and Flight Staff Cadets (FSCs).
Although based at RAF Topcliffe in North Yorkshire, 645 VGS provides free flying training to Royal Air Force Air Cadets throughout the North East and beyond and offers a number of flying training courses to cadets from the age of 12 to 20. Before the pause in flying the squadron had flown 1000's of young men and women from the Newcastle, Northumberland, Durham and Tyne and Wear areas. Many cadets and instructors taught to fly at 645 have gone on to secure flying careers with Airlines and commenced flying training as fast jet pilots in the Royal Air Force.
This could be from aviation training package courses where they are taught the very basics of flying to the Gliding Scholarship where the cadets are trained up to their first solo. If a cadet shows the potential they can be invited back for advanced training and to train as an instructor all at no cost.
Cadets are taught on the Grob Vigilant which is a motor glider which means it has an engine and can be flown and operated like any light aircraft but this can be switched off when airborne to turn the aircraft into a glider.