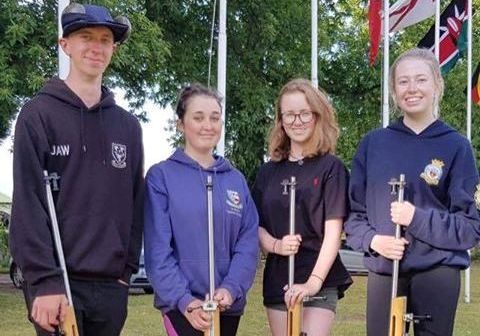 Congratulations to Cpl Joseph Walley, Cpl Ella Colgan, Sgt Courtney Hudson of 607 Wearmouth Squadron RAF Air Cadets, Cpl Matthew Phipps of 1338 (Seaham) Squadron ATC and Sgt Molly Bamford of 1027 Jarrow Squadron ATC, all of whom recently took part in the prestigious 'Imperial' target shooting competition!
The cadets were shooting in various matches as part of the National Rifle Association of the United Kingdom's Imperial Meeting. Cpl Phipps shot in the Cadet Imperial, using the L81A2 Cadet Target Rifle. This is shot alongside the Target Rifle (TR) matches of the Imperial meeting, which the other cadets took part in.
The Cadet Imperial, which was first held last year, is shot under the same conditions as the TR matches of the Imperial. The cadets compete for a free entry into the Imperial meeting the following year, as well as prizes for each match. Cpl Phipps came 11th overall in the Grand Aggregate (all the scores added together) and came second in the Times with a score of 47.03 (out of 50) match. A full breakdown of the scores is available on the CCRS website.
The TR matches of the Imperial Meeting are held annually, and shooters from around the world come to Bisley to compete. Over the course of the meeting a large number of competitions are are held, at distances varying from 300 to 1000 yards. Cadets shoot as individuals, and are responsible for everything, from drawing their rifle (a very nice RPA) from the armoury and getting to their shoots at their allotted time. Once on the firing point they have no coach to assist them in judging the wind or plotting their shots, they are on their own! Add to this they shoot as part of a group of 3 on the firing point, and keep the score of one of their fellow competitors, who could be another cadet competing or a Commonwealth Gold Medallist or any level in between.
All 4 enjoyed the experience, and learnt a lot which will help them further their shooting, both within the ATC, and hopefully beyond.