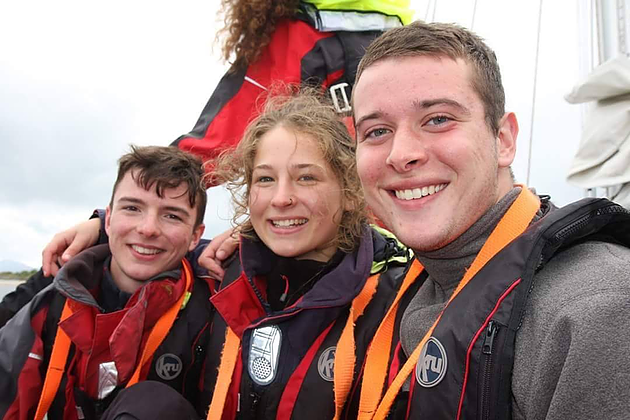 This Summer, Cadet Flight Sergeant Ben Allen of 1114 (Gosforth) Squadron, Cadet Natalia Szutenberg of 733 (Newcastle Airport) Squadron, and Cadet Sergeant Jack Hardy of 1000 (Blyth) Squadron changed their flying suits for wet suits as they took part in the Headquarters Air Cadets/Ocean Youth Trust Scotland West Coast Challenge Offshore Sailing Expedition!
Through choppy waves and gale force winds, the 18 year olds experienced one of the most exciting adventure training opportunities the Air Cadets has to offer: learning to sail around the West coast of Scotland in just under 1 week!
Ben Allen recounts his intrepid voyage here:
Initially as I set off on the train, I got to know the two other cadets from Durham/Northumberland Wing, Cadet Szutenberg and Sergeant Hardy, from Newcastle Airport and Blyth Squadrons respectively. 
As we arrived in Glasgow the realisation that our adventure had begun kicked in. None of us had been to Glasgow before and the free time we had due to getting there early gave us time to explore. That evening, the rest of the cadets from across the Corps trickled in, and we all met up for some food and conversation. The next day, travelling to Oban allowed us all to get more acquainted with each other and share our trepidation for the voyage that we were facing.
Whilst on the vessel we all rapidly settled in. Each cadet was assigned a watch and a watch leader, who showed us the ropes (literally!) and prepared us for what we would be doing over the next week. Without further ado, we had left our docking point at Oban and were steadily on our way, visiting locations such as Tobermory, the filming location for Balamory – the children's television show, and Mallaig, which is home to the Hogwarts Express steam engine which starred in Harry Potter!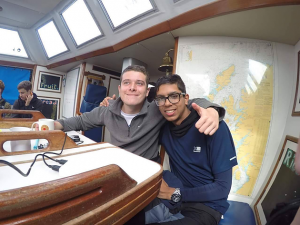 During the voyage, watches were assigned four hour shifts, sometimes sailing for 24 hours continuously, only resting whilst the other watch was on duty. Afterwards we docked at Ardfern to complete stages of our competent crew course, and for some well deserved rest to ensure we were shipshape (excuse the pun) for the final stretch of our voyage.
All in all over the course of the experience, I gained some lifelong friends along with a broadened view of the open seas after severely underestimating the difficulties I would be facing. I can't commend the crew of the vessel enough for their patience and lighthearted attitude through even the most stressful periods of our trip.
I can honestly highly recommend this experience to any cadet that loves to be faced with new and difficult challenges day in day out. I would happily jump at the chance to return and sail with OYT Scotland another day!
Flight Lieutenant Aaron O'Roarty, Officer Commanding 1114 Squadron congratulated Ben on completing the challenge saying "Flight Sergeant Ben Allen has without doubt learnt the meaning of the Corps motto: Venture Adventure, by taking part in a once in a cadet career activity! He has learnt a wide range of new skills, made new friends, and re-learnt what teamwork is all about whilst gaining valuable experiences along the way. Well Done Ben from everyone at 1114 Squadron!"