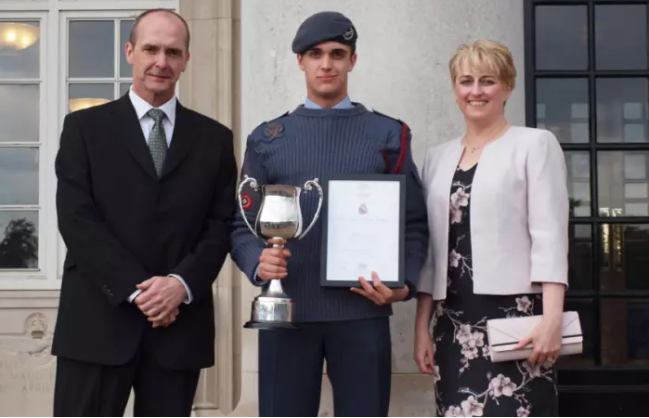 A Blyth air cadet has achieved national success and was part of a team that completed the building of a vital school in Africa – all within the space of a couple of months. CWO Alexander Forsythe was selected by the John Thornton Young Achievers Foundation to go to the village of Obom in Ghana during the summer to help with the project, working alongside local masons.
Before this three-week trip, organised by the Village by Village charity, the 17-year-old received the Ray Alford Trophy that is given to the top student of the group on the Air Cadet Junior Leaders Course – he is the youngest cadet to win this accolade.
He and his parents, Nicola and Colin Forsythe, attended a presentation ceremony at RAF Cranwell and he was invited to a formal dinner in the Officers' Mess at RAF Honington.
In Ghana, after two days of training, the team members worked to shift tonnes of rocks and sand, hand-mix cement and lay bricks, putting up chalkboards made out of mortar and assisted the roofers. They each took turns at being a section leader.
Alexander, who is a member of the 1000 (Blyth) Squadron Air Training Corps, said: "The project was really hard work as half of the school was completely unfinished. We needed to be accepted in the village before we could start work. This involved giving the locals a gift and taking part in a ceremony. Everyone we met out there was incredibly friendly and even some of the children were helping us out where they could. It was amazing to see how happy they were, even though they have very little. I enjoyed getting the opportunity to lead the team for a period of time. Being a leader on a build site was a different challenge to the ones I faced on the junior leaders course."
The South Beach resident is looking to do a degree in electronic engineering after completing his A-Levels, with the aim of joining the military as a reservist in the future.
The Air Cadet Junior Leaders Course involved pre-exercise training, a selection weekend, eight training weekends to build up skills and fitness and a 10-day field exercise test phase at Easter. The field exercise included patrols, building clearances and setting up camps. Each participant had a spell as commander and second-in-command. The tasks tested whether the cadets could effectively cope with being outside for a significant period of time.
Alexander said: "It was an absolutely fantastic experience and it was brilliant to receive the top student award. The field exercise was very challenging, but that was a positive as it tested my leadership skills really well."