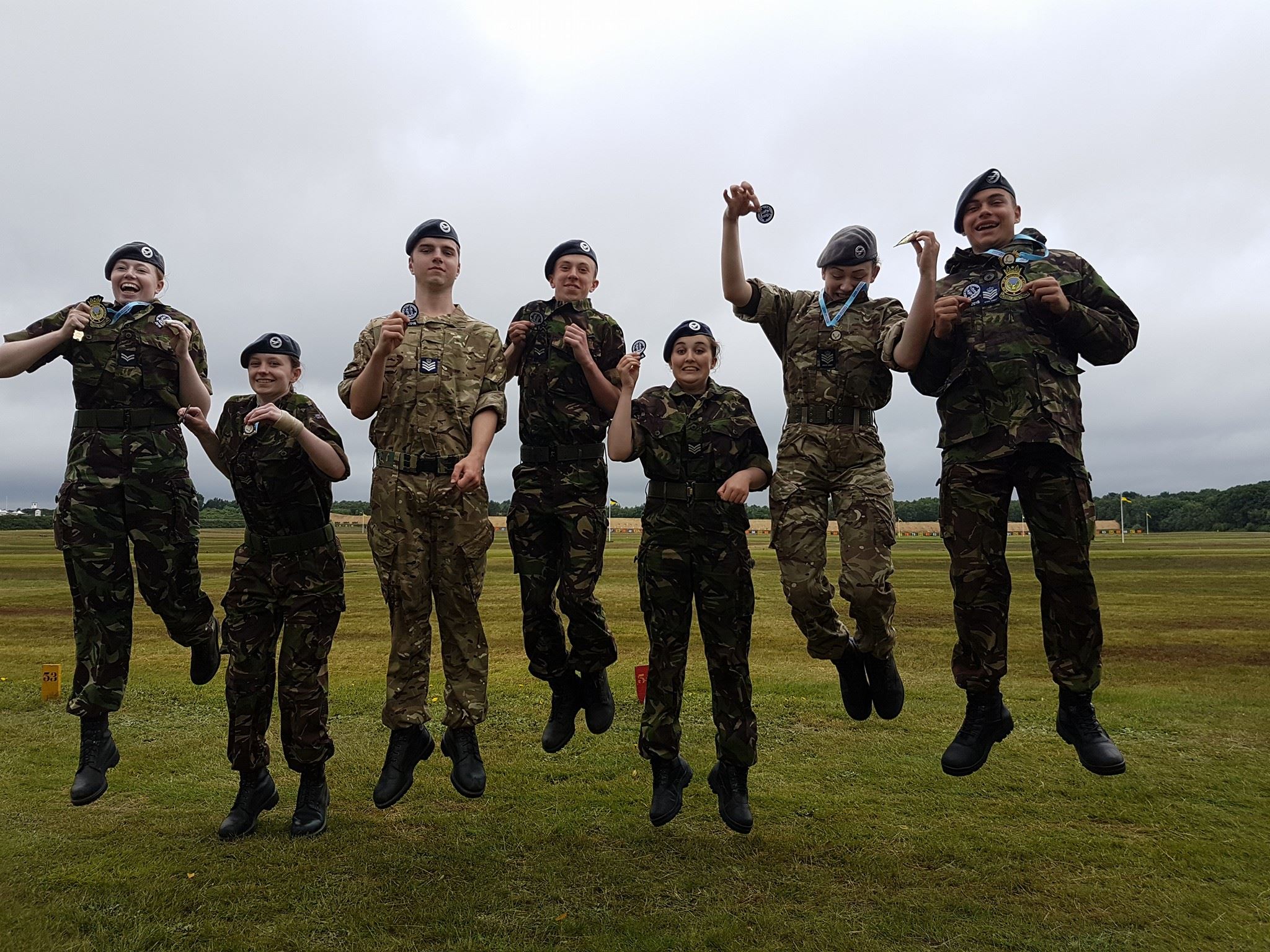 Cadets from Durham Northumberland Wing have yet again hit the target at the prestigious Inter-Services Cadet Rifle Meeting held at Bisley this year.
The 30 Cadets, representing 9 Squadrons from across the Wing, travelled to Bisley in Surrey with the aim of achieving a Cadet 100 and bringing back some silverware. They took part in an intensive 5 days of training before embarking on the Wing Fullbore Target Rifle Competition on day 6, and then the main programme of competition shoots at distances of between 300 and 600 yards.
The news that a record 8 Cadets had achieved the Cadet 100 badge was received with great excitement, and to top it all off, 1027 (Jarrow) Squadron were named as the runner up ATC team and took home Silver Medals! Four Cadets from the Wing were selected to represent the ATC in the final against the ACF, SCC and Canadian Cadets, and were awarded their Corps Blues. In addition, Sgt R Walley won the Helen Border Trophy, FS Peters was awarded her Athelings Tie, and 29 Marksman Awards were achieved across the full week. Almost all the Cadets achieved a personal best, and the success of the team coaches was recognised too, with two being invited to represent the ATC in the Inter-Services final.
1027 (Jarrow) Squadron also won the Cardiff Memorial Trophy for being the highest scoring team in the Wing.
Wing Commander Harris, Officer Commanding Durham Northumberland Wing, said, "This year has been a phenomenal success for shooting in the wing, first with Wearmouth Squadron winning the Battle of Britain Trophy for the best small bore shooting squadron in the Corps and then going on to win the Punch Tri service competition, and then at Bisley,  Jarrow coming second in the Corps, eight cadets in the top hundred, four in the Corps team, and a cadet chosen to shoot in Canada for the UK Cadet team. I am proud of all the hard work and dedication by staff and cadets in achieving such remarkable results."